Sioux City Residential Cooling Installation & Servicing
Cooling: Air Conditioners, Heat Pumps, Mini Splits
Keeping your home cool is of the utmost importance during those sweltering hot, summer Iowa days. If you're looking for a Sioux City cooling company with years of experience, CW Suter is the business to call. We sell, service, and install all makes and models of cooling systems, and are proud to be a Lennox Certified Dealer.
Having and efficient, working air conditioner is literally a matter of life and death in the worst of Iowa's summer heatwaves. Whether your home uses central air conditioning, a heat pump, dehumidifiers, in-line fans, mini-split or a combination of these, our technicians are trained and certified to handle troubleshooting and diagnosis, repair, replacement, and installation for all of it. We understand the importance of being able to trust that your AC is reliable and will keep you comfortable during those hot days and stuffy nights. That's where we come in. We're dedicated to keeping your comfortable, keeping your home healthy and safe, and doing so without busting your budget.
Air Conditioning Installation 
Choosing a new AC unit can be overwhelming, especially when you feel as though you've been pushed into the decision to replace by and unexpected failure. Even in the most well-planned air conditioner replacement scenario, there's a lot to consider. We're here to guide you through the process. Our HVAC experts will make sure that you're armed with the information you need to choose the system best suited to you and your home.
Warranty, Rebates & Registration
The good news is that CW Suter handles ALL the paperwork for you. Not only that, but we also make sure that you get all of the rebates that your qualify for and that your equipment is properly registered. Investing in a new air conditioner shouldn't be a stressful experience. We're committed to taking care of our customers for the long haul. When you purchase equipment through Suter, we offer a 10 year limited warranty on components, including the compressor, and a 1 year labor warranty.
Signs That Your AC Needs Attention
If any of these red flags are waving in your home, give us a call. We'll have one of our expert technicians get down to the root of the problem. If you're in the market for a new central air system, thermostat, or heat pump, we will help fit your home with the proper equipment.
Your air conditioner is blowing warm air
Your air conditioner turns on and off constantly
Your AC unit is making a loud noise
There is an unusual smell
Your AC is leaking water
Your thermostat is not working
There's uneven cooling throughout your home
Want to Learn More About Residential HVAC from CW Suter?
Regardless of your "why" – whether your air conditioner is acting up or you're looking for ways to make your home more efficient and planet-friendly – the first step is to get in touch with one of our Suter Heroes. Schedule your free home assessment online or by telephone – or even by clicking the chat button on the bottom of the page! Our trained HVAC experts will gather information about your home such as the size, number of doors and windows, and other factors like humidity control and air purification. From there, CW Suter Services will help fit your home with the appropriate unit.
Looking For Pricing?
Get a Quote Today!
Residential customers can get a free no-obligation quote for a new HVAC system. Just fill out the form to get started.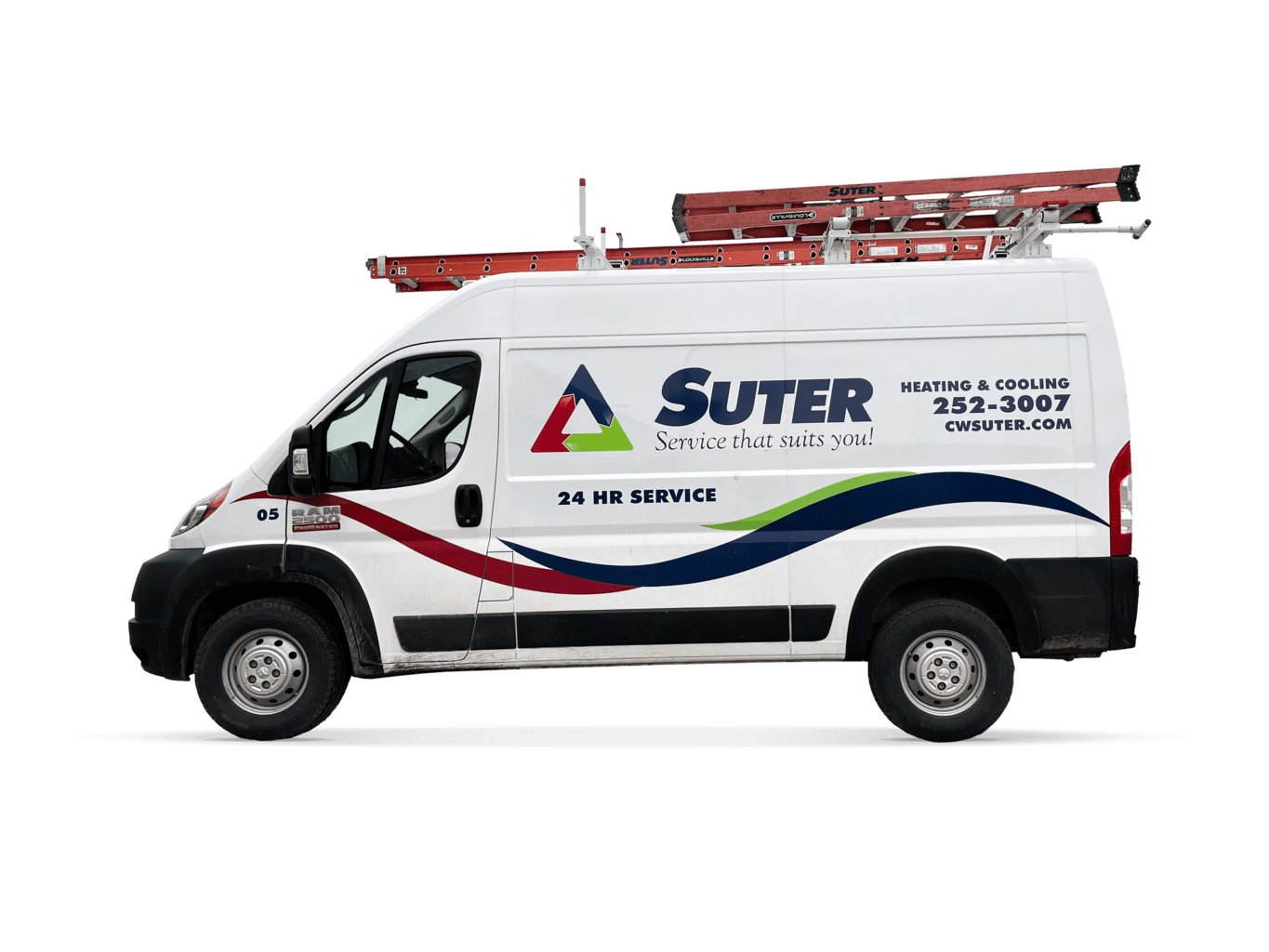 Need Help Right Away?
24/7 Emergency Service Available.
If you need emergency service, you can get a hold of us right away by calling us at 712-252-3007 where we are available 24/7.